TNMC (Box of 10)
Regular price
Sale price
$44.20 USD
Unit price
per
Sale
Sold out
Price is for 10 Pc Box. Picture on display is of a Coated Insert. C520 (C-2): General purpose grade designed for cast iron and non-ferrous materials. C550 (C-5): Designed for heavy roughing to semi-finishing of all steels. CM-14 (C5 Coated): Multi Layer coating TiN/TiC/TiCN/TiN for turning and milling carbon and alloy steels and tool steels. Provides longer tool life than uncoated grades.
Read More
Type:Threading & Grooving Inserts
Vendor: Carbidenow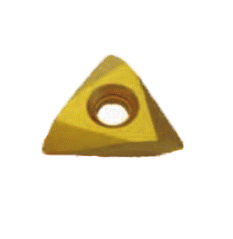 - On-Edge Carbide Threading and Grooving Inserts.
- Is a neutral rake insert with through hole.
- Countersunk on two sides.
| | | | | | | | | | | | |
| --- | --- | --- | --- | --- | --- | --- | --- | --- | --- | --- | --- |
| Insert Type | | | Dimensions | | Uncoated Grade | | | Coated Grade | | | |
| Insert | | | Threads Per Inch | Threads Per Inch | C520 | C550 | Price | CM14 | Price | | |
| Style | I.C. | Thickness | External | Internal | EDP# | EDP# | 10 Pc Box | EDP# | 10 Pc Box | | |
| TNMC-32NV | 3/8 | 1/8 | 8-36 | 8-20 | C43648 | C43652 | $44.20 | C43656 | $51.95 | | |
| TNMC-43NV | 1/2 | 3/16 | 6-20 | 6-12 | C43660 | C43664 | $57.95 | C43668 | $68.95 | | |
| TNMC-54NV | 5/8 | 1/4 | 4-20 | 4-12 | C43672 | C43676 | $99.95 | C43680 | $115.95 | | |